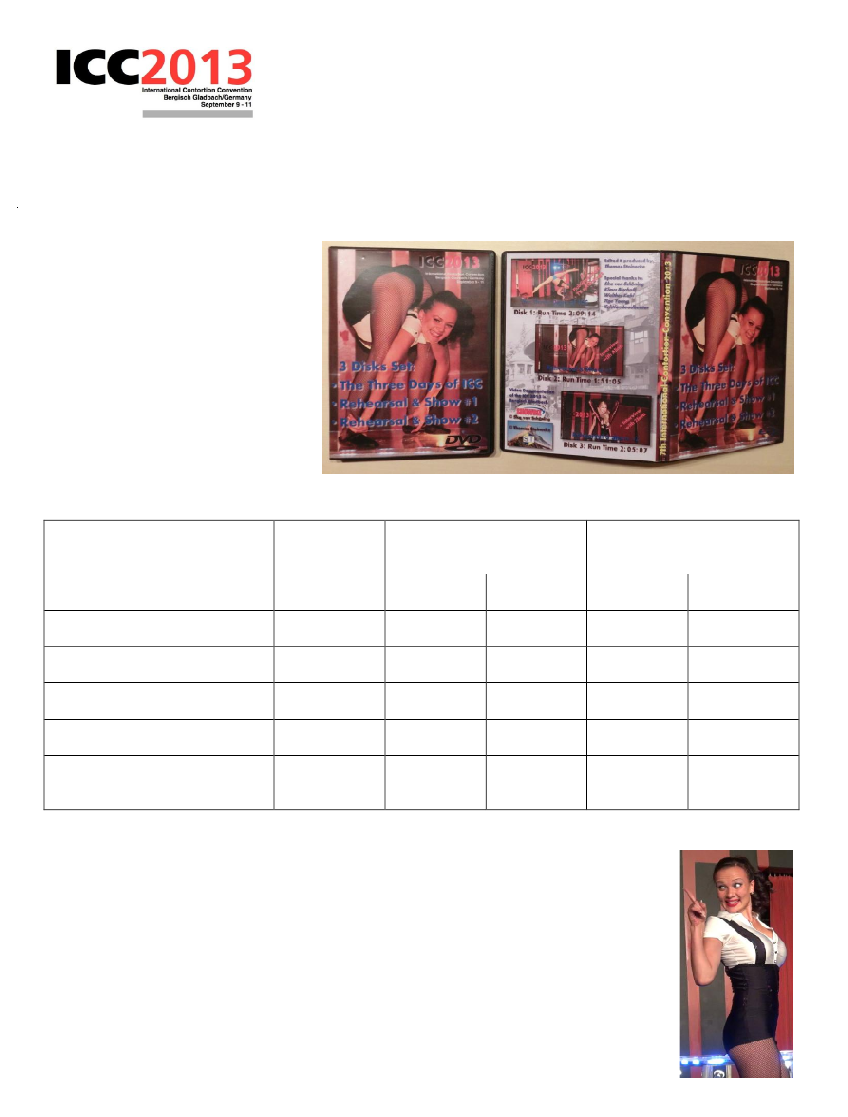 You are waiting for the official ICC 2013
documentation on BluRay and Video-DVD?

The disk sets are available now for ordering and will be shipped soon!

The contents of the ICC 2013 disk set can be previewed on YouTube:
http://www.youtube.com/watch?v=UFpqGDZmYU8

Each disk set will arrive in the pictured
cover. The disks themselves will not
contain a printed label, but only a
#1/2/3 marking. Each disk will run
approximately 2 hours, and the total
playing time is approximately 6 hours
and 5 minutes as indicated on the
cover.
Go directly to the shop
Price list:
Disk Set (= 3 Disks)
Special Discount Price for ICC
2013 Artists
(only valid for one set!)
Standard
Mail
Registered
Mail
Standard
Mail
Registered
Mail
BluRay Full HD 1920x1080 PAL
For your external BD player
BluRay Full HD 1920x1080 NTSC
For your external BD player
BluRay 720x576 PAL
For your external DVD player
BluRay 720x480 NTSC
For your external DVD player
BD MP4 Video Full HD 1920x1080
H.264 @ 25.00 Frames/s for
playback on your computer*
* Tested with the freeware "VLC media player" (You computer needs a Blu-Ray capable drive)

Be fair! Please note that these disk sets are the only official and authorized ICC 2013 videos
and are purchased under the following copyright:
This copyrighted work has been licensed for private use only and any other use of the whole or
any part of the material (including adapting, copying, issuing copies, unauthorized lending,
public performance, broadcasting or making the same available to or via the internet or
wireless technology or authorizing any of the foregoing) is strictly prohibited.
Any infringement damages the contortion support which we all want and impacts the
harmony among our contortion community. Due to bad experience in the past, we will have
an eye on what happens on the internet and inside the contortion community.